home I about us Х о нас I services Х сервисы I media partners Х медиа-партнеры I contacts Х контакты

MASTER PAGE Russian-American Advertising and Information Services PRESENTS:

Interesno! Bi- Weekly Russian Magazine.
General Info

ќсновна€ информаци€ о ежемес€чном журнале "»нтересно!"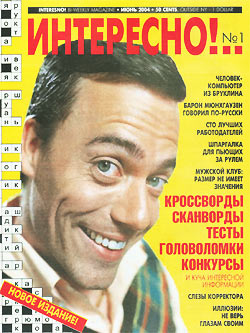 INTERESNO!

УInteresno!Ф Russian Magazine is published bi-weekly, and is distributed throughout the all over United States. It is available by subscription throughout the continental United States.
TECHNICAL INFO
Page size: 8ТТx10.5Т.
Advertising Full page size: 6.75"x9"
60 pages per issue, double stitching.
Full color cover (4/4) and full cover advertising inserts. Black and white text.
For more information
contact to our
English-Russian
speaking
Representative
at (718) 648-3511
or via E-mail:
masterpage@inforeklama.com
 онтактный телефон в Ќью-…орке (—Ўј): (718) 648-3511
'акс: (718) 648-3047, E-mail: masterpage@inforeklama.com
ѕочтовый адрес: MASTER PAGE, 861 Bay Ridge Avenue, Suite 6, Brooklyn, NY 11220
www.InfoReklama.com Х www.zuzki.com Х www.MasterPageInfo.com Х www.43info.com Х www.RussianPart.com Х www.KurierWeb.com Х www.InfoReklama.com/classified

home I about us Х о нас I services Х сервисы I media partners Х медиа-партнеры I contacts Х контакты