RULIST means a searchable, categorized, and English-Russian bilingual address book. Database RULIST contains more than ten thousand records concerning Russian speaking professionals and companies in US and Canada.

RULIST Regions:
Х

New York / New Jersey Region, US (NJ, NY)


Х

New England, US (CT, MA, ME, NH, RI, VT)


Х

Pennsylvania, US (PA)


Х

Middle Atlantic Region, US (DC, DE, MD, VA, WV)


Х

South Atlantic Region, US (AL, FL, GA, MS, NC, SC, TN)


Х

Michigan Region, US (IN, KY, MI, OH)


Х

Illinois / Wisconsin Region, US (IL, WI)


Х

Great Plains, US (IA, KS, MN, MO,ND,NE, SD)


Х

South Central Region, US (AR, LA, OK,TX)


Х

Mountain Region, US (AZ, CO, ID, MT, NM, NV, UT, WY)


Х

California, US (CA)


Х

North Pacific Region, US (AK, HI, OR, WA)


Х

Quebec / Atlantic Region, Canada (NB, NF, NS, PE, QC)


Х

Ontario, Canada (ON)


Х

West, Canada (AB, BC, MB, NT, NU,SK, YT)

RULIST Categories
:
Arts. Crafts. Fashion
Automotive
Auto & Truck Leasing & Rental

Auto Repair & Service

Automobile Dealers. Cars for Sale

Automobile Insurance

Automotive, Misc.

Driving Schools

Security Systems
Computers. Electronics
Computer Maintenance & Repair

Computer Programming Services and Consulting

Computers, Retail

Web Design & Development. Hosting
Construction. Contractors
Architects

Building Construction

Building Materials & Home Centers

Carpentry

Concrete, Masonry, Stone, & Tile

Electrics & Other Services Combined

Flooring, Roofing & Siding

Interior Design

Painting & Wallpaper

Plumbing, Heating & Air Conditioning

Remodeling, Upgrades & Improvements

Security Systems
Education
Art Schools

Child care

Driving Schools

Kindergartens. Preschools

Language Schools

Medical Schools

Schools & Lessons, Misc.

Sport Schools

Summer Camps

Training Centers. Professional Education
Family. Children
Housekeepers. Babysitters. Nanny Services

Kindergartens. Preschools

Summer Camps
Finance. Taxes
Accounting & Tax Services

Corporate Services. Business Development

Financial Services, Misc.

Investments

Mail Services. Money Transfers

Medical Billing

Mortgage Professionals. Loans

Security Transportation
Health. Wellness
Beauty Salons. Barbers

Cosmetic & Beauty Supplies

Cosmetology

Nutritionists. Nutritional Supplements

Pharmacy

Wellness Centers. Spas
Home. Garden
Appliances

Bathrooms. Water Supply. Sewerage Systems

Beds & Accessories

Floor Coverings

Home Repair

Kitchens. Bathrooms

Lawn & Garden

Lighting, Lamps & Accessories

Security Systems

Window Furnishings.Drapery, Curtains, & Upholstery
Immigration. Emigration
Law. Legal Services
Marketing. Advertising. Publishing
Advertising Agencies

Broadcasting Companies

Graphic Design

Marketing

Printing

Publishing
Media
Medical. Dental
Pets. Vets
Production
Real Estate
Restaurants. Entertainment
Retail. Stores
Services
Telecommunications
Transportation. Moving. Storage
Freight. Cargo

Passanger Transportation

Security Transportation

Storage. Moving
Travel. Sports. Leisure

ADVERTISING SERVICES:
RULIST Listing Service Types:
Ц Base Placement (company name, address, and phone number)
Ц Link to web site
Ц Contact information renewal
Ц Logo placement
Ц Text line placement, 60 characters
Ц Placement at the first position in the company list
Ц Placement at the 2nd-5th position in the company list
* * *
There are 2 kind of Advertising: Graphic and Text Block Advertisements
All advertisements are published in both Russian and English on the corresponding pages. Multiple placing is discounted.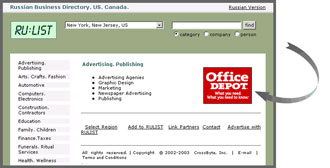 Graphic blocks are placed on the main regional pages and on the category pages. This placement is the most promising because it allows all visitors interested in this particular category to see your image.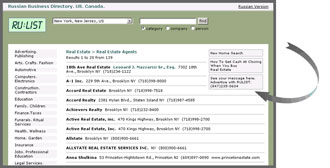 Text ad modules in Russian and in English are included in the appropriate RULIST subcategory and region that gives you opportunity to reach the target users. Text modules have some obvious advantages of graphic blocks such as fast loading and availability for search engines.
Minimal commitment period for graphic and text block advertisement is 3 months. Prices are subject to change without notice.
Your

Advertisement

you can place

on the Main Regional Page

,

on the Category Page

and

on the Company List Page

.
* * *
Graphic Design and additional Services
Ц Info page design (up to 1500 characters, 2 graphic elements)
Ц Static graphic block design (Advertising Banner)
Ц Info page placement
Ц URL like www.rulist.com/company_name
Ц Info page renewal

For more information
contact to our
English-Russian
speaking
Representative
at (718) 648-3511
or via E-mail:
masterpage@inforeklama.com